green garsshopper, hoppers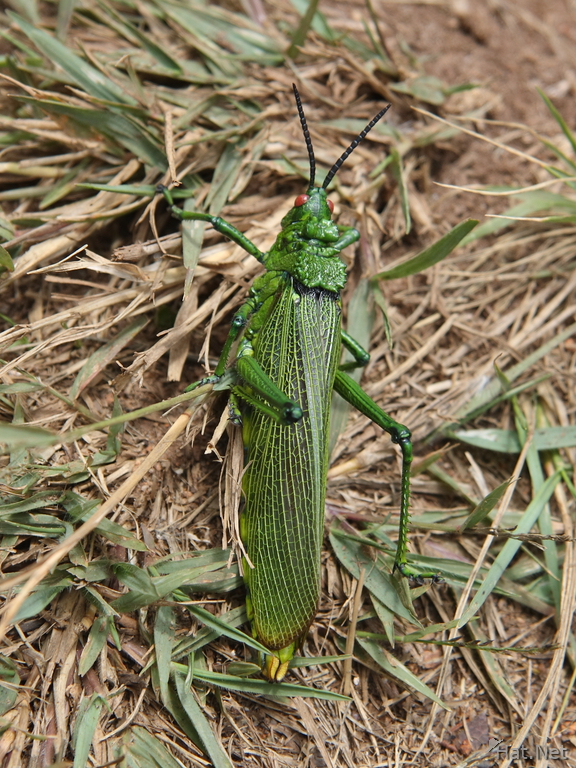 The grasshopper's reproductive system consists of the gonads, the ducts which carry sexual products to the exterior, and accessory glands. In males, the testes consist of a number of follicles which hold the spermatocytes as they mature and form packets of elongated spermatozoa. After they are liberated in bundles, these spermatozoa accumulate in the vesicula seminalis (vas deferens).
In females, each ovary consists of ovarioles. These converge upon the two oviducts, which unite to create a common oviduct which carries ripe eggs. Each of the ovarioles consists of a germarium (a mass of cells that form oocytes, nurse cells, and follicular cells) and a series of follicles. The nurse cells nourish the oocytes during early growth stages, and the follicular cells provide materials for the yolk and make the eggshell (chorion).
During reproduction, the male grasshopper introduces sperm into the ovipositor through its aedeagus (reproductive organ), and inserts its spermatophore, a package containing the sperm, into the female's ovipositor. The sperm enters the eggs through fine canals called micropyles. The female then lays the fertilized egg pod, using her ovipositor and abdomen to insert the eggs about one to two inches underground, although they can also be laid in plant roots or even manure. The egg pod contains several dozens of tightly-packed eggs that look like thin rice grains. The eggs stay there through the winter, and hatch when the weather has warmed sufficiently. In temperate zones, many grasshoppers spend most of their life as eggs through the "cooler" months (up to 9 months) and the active states (young and adult grasshoppers) live only up to three months. The first nymph to hatch tunnels up through the ground, and the rest follow. Grasshoppers develop through stages and progressively get larger in body and wing size. This development is referred to as hemimetabolous or incomplete metamorphosis since the young are rather similar to the adult.
Direction
Same location as last photo
Location
Mtae, East Africa, Tanzania, Africa
Info
F 5.6 1/250 ISO 200 with Canon EOS DIGITAL REBEL XTi
Itinerary
. feeling: neutral, slighly upbeat
Country
Tanzania
State
East Africa
City
Mtae
Weather
Rain
Continent
Africa
Day
Usambara
Activity
village walk
Feeling
neutral
Date
2007:10:17 12:09:43
Make
Canon
Model
Canon EOS DIGITAL REBEL XTi
Width
1905
Height
2540
Flash
Off, Did not fire
Focal
85.0 mm
Exposure
1/250
F Number
5.6
ISO
200
White Bal.
Auto
Program
Aperture-priority AE
Compensation
0
Hyperfocal
69.49 m
Latitude
-4.51046111111111
Longitude
38.2524361111111
Altitude
1955.110837 m
File Size
4.1 MB
comments powered by

Disqus