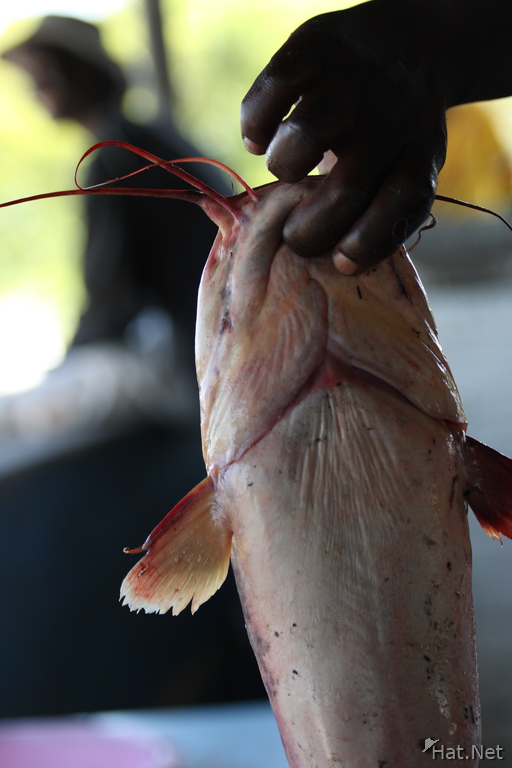 The catfishes are a monophyletic group. This is supported by molecular evidence.
Catfish belong to a superorder called the Ostariophysi, which also includes the Cypriniformes, Characiformes, Gonorynchiformes and Gymnotiformes, a superorder characterized by the Weberian apparatus. Some place Gymnotiformes as a sub-order of Siluriformes, however this is not as widely accepted. Currently, the Siluriformes are said to be the sister group to the Gymnotiformes, though this has been debated due to more recent molecular evidence. As of 2007 there are about 36 extant catfish families, and about 3,023 extant species have been described. This makes the catfish order the second or third most diverse vertebrate order; in fact, 1 out of every 20 vertebrate species is a catfish.
The taxonomy of catfishes is quickly changing. In a 2007 paper, Horabagrus, Phreatobius, and Conorhynchos were not classified under any current catfish families. There is disagreement on the family status of certain groups; for example, Nelson (2006) lists Auchenoglanididae and Heteropneustidae as separate families, while the All Catfish Species Inventory (ACSI) includes them under other families. Also, FishBase and the Integrated Taxonomic Information System lists Parakysidae as a separate family, while this group is included under Akysidae by both Nelson (2006) and ACSI. Many sources do not list the recently revised family Anchariidae. The family Horabagridae, including Horabagrus, Pseudeutropius, and Platytropius, is also not shown by some authors but presented by others as a true group. Thus, the actual number of families differs between authors. The species count is in constant flux due to taxonomic work as well as description of new species. On the other hand, our understanding of catfishes should increase in the next few years due to work by the ACSI.
The rate of description of new catfishes is at an all-time high. Between 2003 and 2005, over 100 species have been named, a rate three times faster than that of the past century. In June, 2005, researchers named the newest family of catfish, Lacantuniidae, only the third new family of fish distinguished in the last 70 years (others being the coelacanth in 1938 and the megamouth shark in 1983). The new species in Lacantuniidae, Lacantunia enigmatica, was found in the Lacantun river in Chiapas, Mexico.
Direction
Same location as last photo
Location
Kisumu, East Africa, Kenya, Africa
Info
F 4.0 1/160 ISO 200 with Canon EOS DIGITAL REBEL XTi
Country
Kenya
State
East Africa
City
Kisumu
Weather
Sunny
Continent
Africa
Day
Kisumu
Activity
Lake Victoria Boat Ride
Tour
GAP (Great Adventure People)
Date
2007:09:20 12:50:25
Make
Canon
Model
Canon EOS DIGITAL REBEL XTi
Width
2592
Height
3888
Flash
Off, Did not fire
Focal
70.0 mm
Exposure
1/160
F Number
4.0
ISO
200
White Bal.
Auto
Program
Aperture-priority AE
Compensation
0
Hyperfocal
65.98 m
Latitude
-0.144755555555556
Longitude
34.7367472222222
Altitude
72.40570846 m
File Size
6.0 MB
comments powered by

Disqus