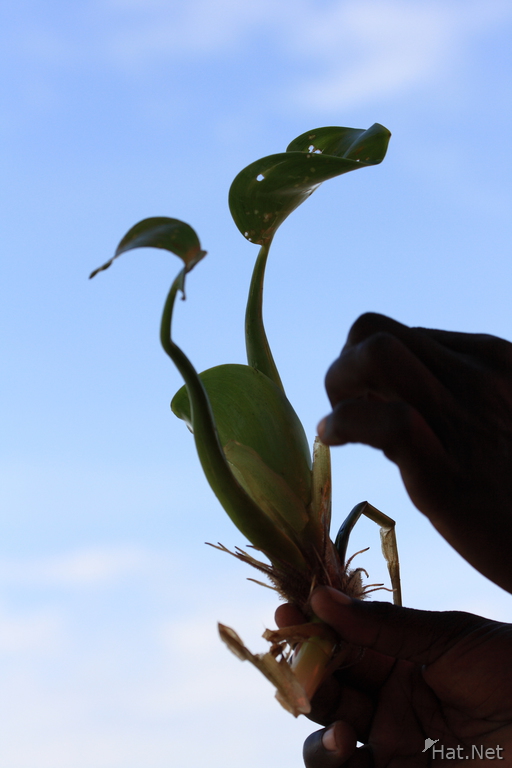 someone throw the plant from Uganda they are taking over the lake but their flowers were gone and they are dying slowly
The seven species of water hyacinths comprise the genus Eichhornia of free-floating perennial aquatic plants native to tropical South America. With broad, thick and glossy ovate leaves, water hyacinths may rise some 1 metre in height. The leaves are 10-20 cm across, supported above the water surface by long, spongy and bulbous stalks. The feathery, freely hanging roots are purplish black. An erect stalk supports a single spike of 8-15 conspicuously attractive flowers, mostly lavender to pinkish in colour with six petals. When not in bloom, water hyacinth may be mistaken for frog's-bit (Limnobium spongia).
One of the fastest growing plants known, water hyacinth reproduces primarily by way of runners or stolons, eventually forming daughter plants. They may also reproduce via seeds. The common water hyacinth (Eichhornia crassipes) is a vigorous grower known to double its population in two weeks.
Direction
Walk 0.5 km or 7 mins south west from last photo
Location
Kisumu, East Africa, Kenya, Africa
Info
F 6.3 1/640 ISO 200 with Canon EOS DIGITAL REBEL XTi
Country
Kenya
State
East Africa
City
Kisumu
Weather
Sunny
Continent
Africa
Day
Kisumu
Activity
Lake Victoria Boat Ride
Tour
GAP (Great Adventure People)
Date
2007:09:20 09:35:28
Make
Canon
Model
Canon EOS DIGITAL REBEL XTi
Width
2592
Height
3888
Flash
Off, Did not fire
Focal
70.0 mm
Exposure
1/640
F Number
6.3
ISO
200
White Bal.
Auto
Program
Aperture-priority AE
Compensation
0
Hyperfocal
41.89 m
Latitude
-0.129838888888889
Longitude
34.7218166666667
Altitude
72.41120907 m
File Size
4.1 MB
comments powered by

Disqus